SINCE 2016, DELL HAS DEALT WITH THE LOSS OF 5 CLOSE FRIENDS BECAUSE OF DOMESTIC VIOLENCE. FOR YEARS I HELD THIS IN AND I CONSTANTLY BLAMED MYSELF FOR NOT DOING MORE. I'VE LITERALLY WATCHED MINUTES TURN INTO DAYS, DAYS TURN INTO WEEKS, WEEKS TURN INTO MONTHS AND MONTHS TURN INTO YEARS THINKING ABOUT THEM. I ADMIT IT HAS INTERFERED WITH MY ABILITY TO LIVE MY LIFE TO THE FULLEST. I JUST MISS THEM SO MUCH!
LEARN MORE ABOUT DELL, AND
WHAT'S MOST IMPORTANT TO HIM IN LIFE AS A DOMESTIC VIOLENCE AMBASSADOR AND HIS VISION FOR VISIBLE HOPE & THE PURPLE VELVET ROPE MOVEMENT!
" LIFE IS NOT ABOUT WHAT YOU CAN GET, IT'S ABOUT WHAT WE CAN GIVE. IN ORDER TO HAVE A FULFILLING LIFE, YOU NEED TO GIVE AND SERVE OTHERS…"
IMAGINE THE LIVES YOU WILL POSITIVELY IMPACT AND CHANGE FOREVER BY SIMPLY BEING YOU! IN 2010, I CHOSE TO TAKE ACTION AND BECOME A SERVANT FOR HUMANITY THROUGH MY MINISTRY/NONPROFIT VISIBLE HOPE!
DELL MITCHELL
GOD PUT THIS ON MY HEART YEARS AGO, BUT I WAS NOT PHYSICALLY ABLE TO ACCEPT THE ASSIGNMENT. NO TIME OF OURS WILL EVER BE PERFECT, BUT GOD'S TIME IS ALWAYS PERFECT TIMING!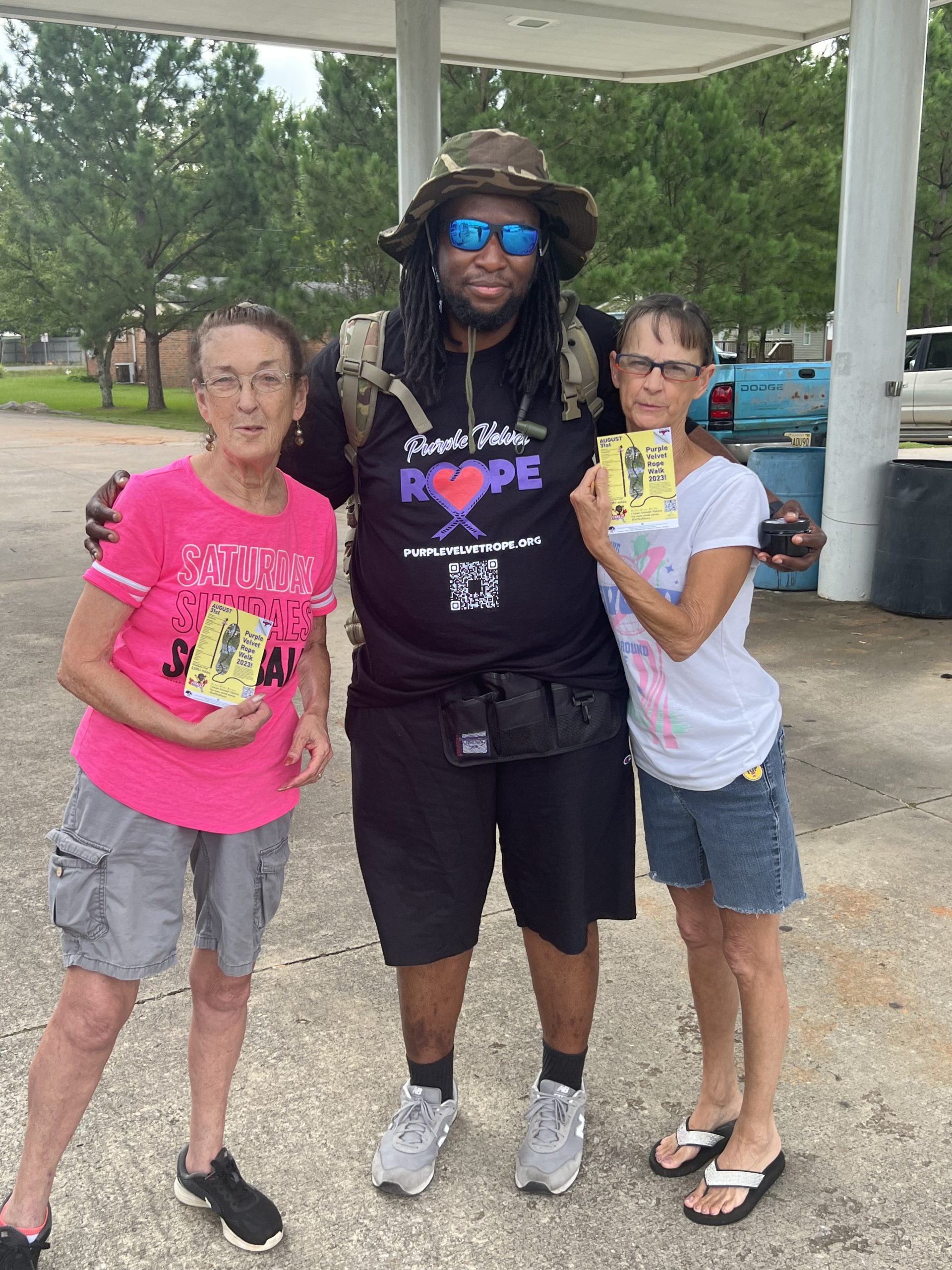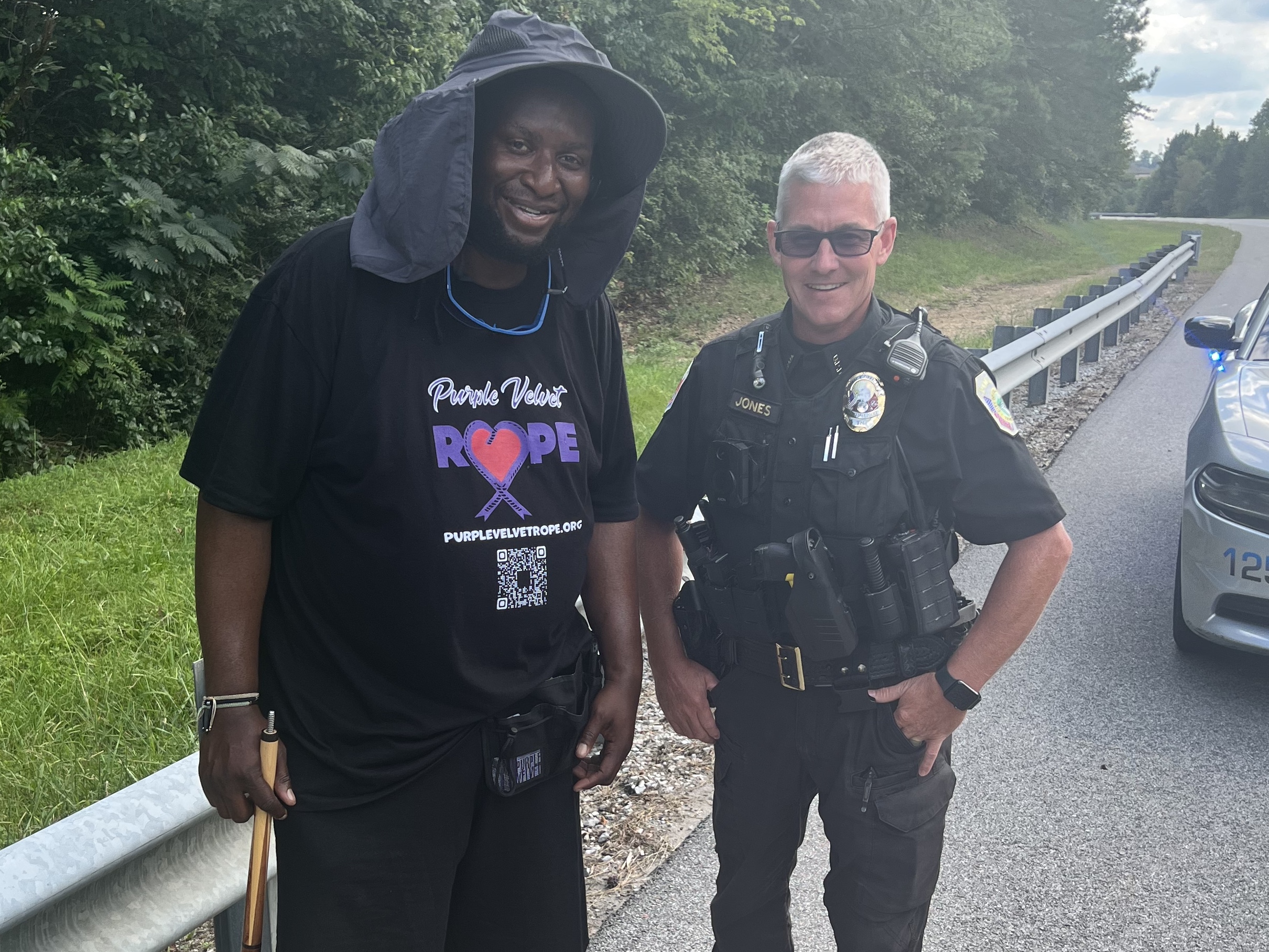 Collegedale, TN.
"I'M NOT THINKING ABOUT THE AWARDS OR ACCOLADES THAT MAY COME WITH THIS, I'M MORE CONCERNED ABOUT THE VICTIMS WHO NEED HELP GETTING OUT OF THESE ABUSIVE AND LIFE-THREATENING RELATIONSHIPS AND PROVIDING A SAFE-HAVEN FOR THEM."
"...Walking over 2K+ miles for domestic violence will be the biggest challenge I have ever taken on.. but I'm up for the challenge..."It was a pleasure to meet this officer while at the Knoxville Police Department.
" WE NEED TO TRUST GOD WITH ALL OF OUR HEARTS, MINDS, AND SOULS." 
PROVERBS 3:5-6
CAN WE REALLY TRUST GOD FULLY IF WERE STILL HOLDING ON TO THINGS THAT WE SHOULD HAVE ALREADY GIVEN TO HIM?
GOD TOLD ME WHEN HE GAVE THE ASSIGNMENT STOP WORRYING ABOUT THE DONATIONS…. IS YOUR FAITH IN MAN OR ME? ALL YOU HAVE TO DO IS JUST GO AND I WILL MAKE SURE YOU HAVE EVERYTHING YOU NEED TO COMPLETE THE JOURNEY. SO I DID JUST THAT AND LEFT HUNTSVILLE, ALABAMA ON MY BIRTHDAY AUGUST 31ST. 2023, COMPLETELY TRUSTING GOD ON THIS JOURNEY…
#TRAILTOFLORIDA
#ENDDOMESTICVIOLENCE
#NOMORESILENCE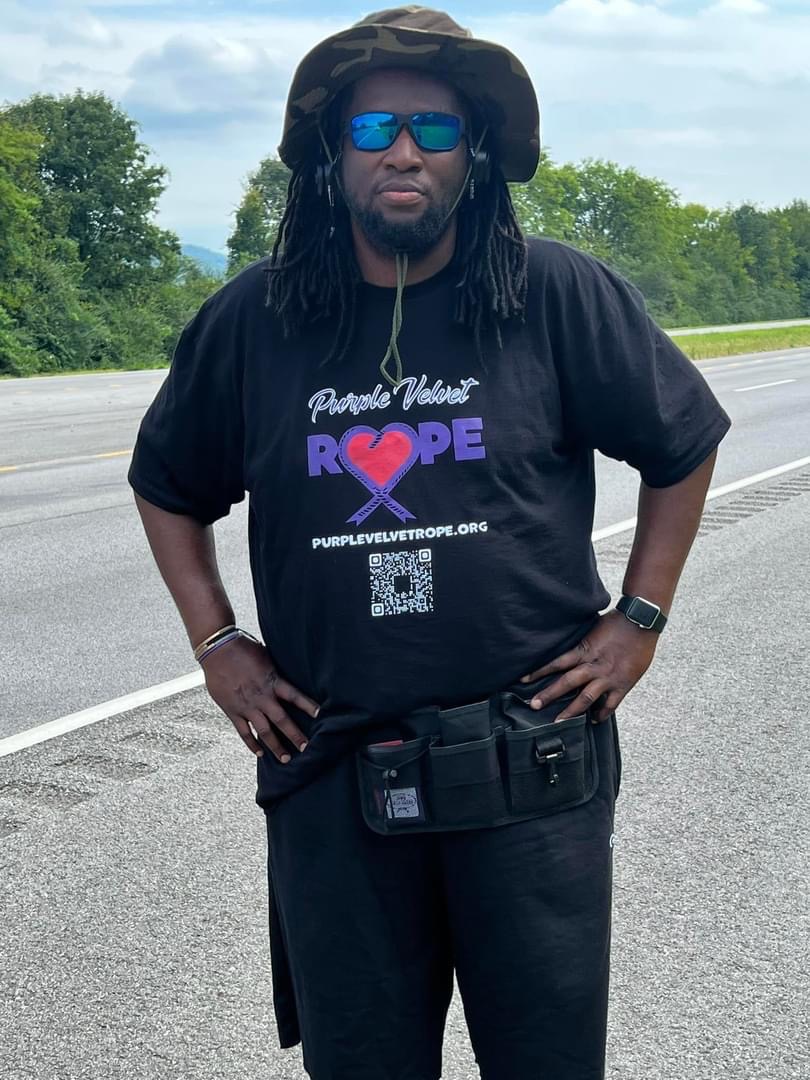 #ENDDOMESTICVIOLENCE #GETOUTNOW #YOUAREENOUGH #PVR2023 #LOVEDOESNTHURT #LOVEYOURSELFMORE #SHAREYOURVOICE #UNTILEVERYWOMANISSTRONG #WALKINGBYFAITH #TAKEYOURVOICEBACK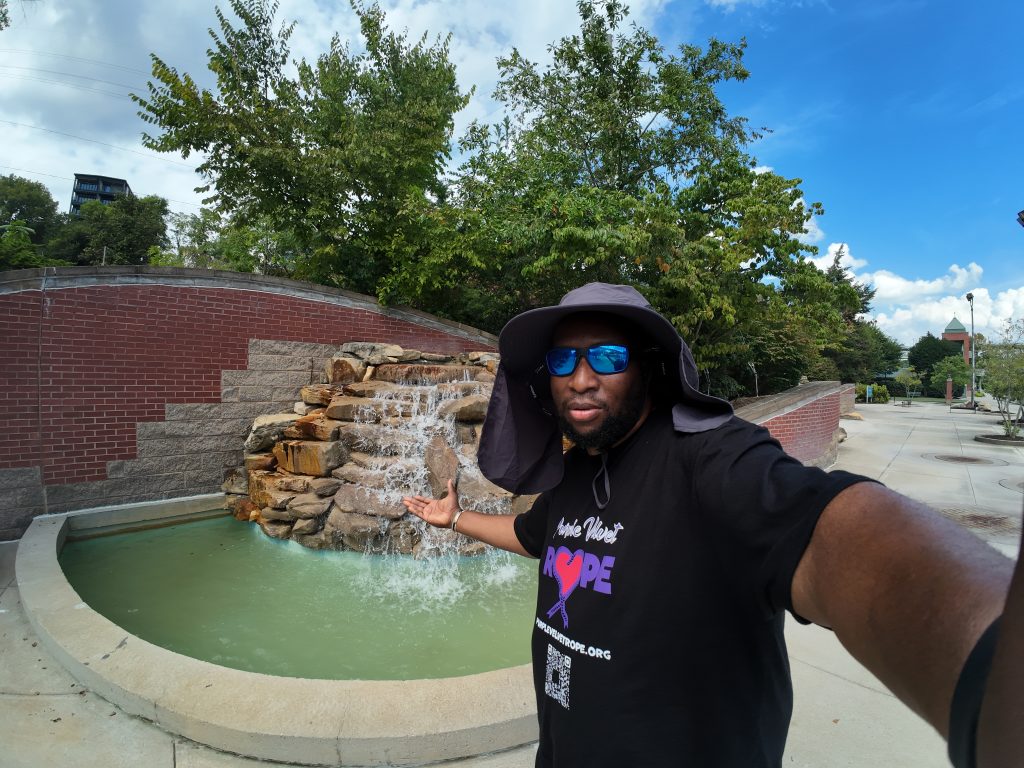 "...sometimes I feel like my legs can keep going forever"
LEARN MORE ABOUT DELL'S STRENGTH AND HOW HE WAS ABLE TO TAKE ON A CHALLENGE LIKE THIS. NOBODY BUT GOD! I CAN'T GIVE ANYONE ELSE THE CREDIT...
" MARTIN LUTHER KING ONCE SAID "IF YOU CAN'T RUN, WALK. IF YOU CAN'T WALK, THEN CRAWL, BUT FOR GOD'S SAKE, KEEP MOVING."
THAT'S EXACTLY WHAT I'M DOING! DESPITE THE HOT TEMPERATURES, I HAVE TO CONTINUE PRESSING ON AND I WON'T QUIT UNTIL I REACH TALLAHASSEE, FLORIDA.
I'M PUTTING MY BODY ON THE LINE FOR A GREAT CAUSE THAT'S DEAR TO ME, BESIDES PEOPLE TEND TO LISTEN A LITTLE MORE WHEN YOU DO SOMETHING OUT OF THE ORDINARY…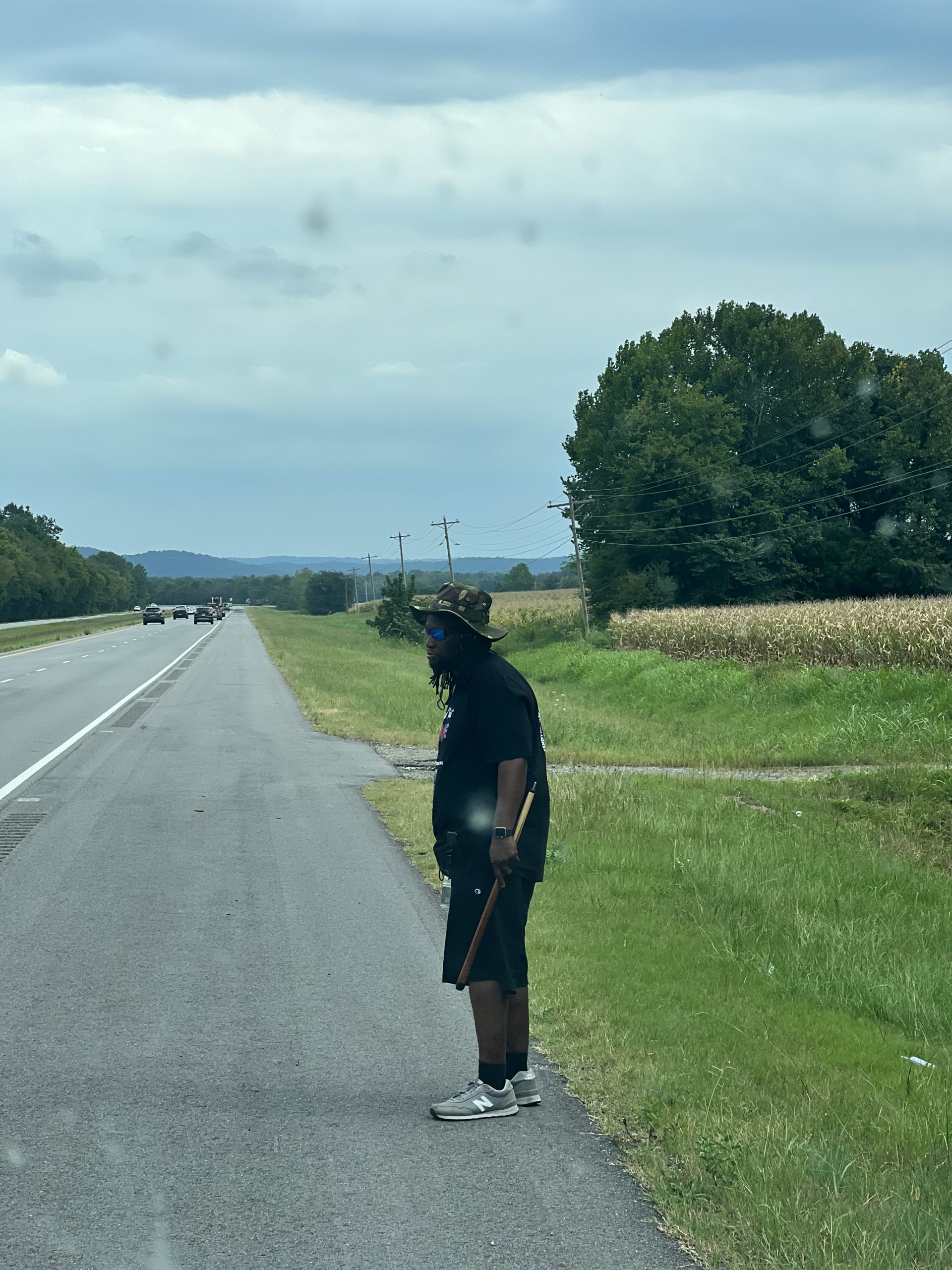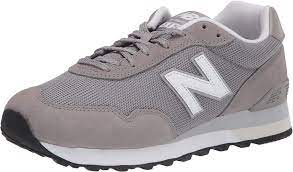 NEW BALANCE 515. I trained with these for 2 months and then walked about 400 miles on them and they were the first ones to go out.
"I've got a tool belt of different shoes that I can use for any specific day."
FINDING YOUR FOOT STRIKE IS A GREAT START TOWARDS FINDING SHOES DESIGNED FOR YOUR STYLE OF WALKING ON A JOURNEY AS INTENSE AS THIS ONE. JUST OVER 400 MILES I'VE ALREADY WORN OUT A PAIR OF SHOES.
"MY BIGGEST GOAL WITH THIS JOURNEY AND WHEN I RETURN BACK TO HUNTSVILLE, ALABAMA IS TO CONNECT WITH VICTIMS WHO ARE CURRENTLY GOING THROUGH DOMESTIC VIOLENCE WITH AN INTIMATE PARTNER AND BE ABLE TO GIVE THEM THEM THE HELP THEY NEED TO GET OUT NOW"



Full 1
There stood a little lighthouse in the middle of the sea on top of the rocks.

Full 2
The Best Office Furniture You've Probably Never Heard Of

Full 3
Why autumn leaves turn red? It's not easy being red!